Pot Magnet has a powerful neodymium & Ceramic Magnet ring, suitable for high strength and general purpose holding applications.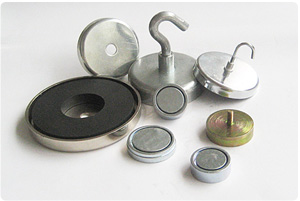 The steel parts (steel cover) in a durable nikle or Zinc plating with a mounting hole in the center. Neodymium Pot &Cup magnet has high pull strength, can lift from 1.4kgs to 155kgs.
Neodymium Mounting Magnet,maximum operating temperature are +80℃ ~ 150℃.
Ferrite Round base magnet, maximum operating temperature would be +120℃